eBook conversion services
EBook conversion services of Apoyo Corp involves conversion of books, magazines, journals or any other input files into eBooks, digital magazines and ePubs in device centric formats.
We specially design eBooks comprising of
Text,
Images,
Illustration,
Flowcharts,
Tables,
Graphs, etc., to comply with your chosen E-book readers like Amazon's Kindle, Kindle paper white, kindle fire, Nook, Kobo, iPad, etc.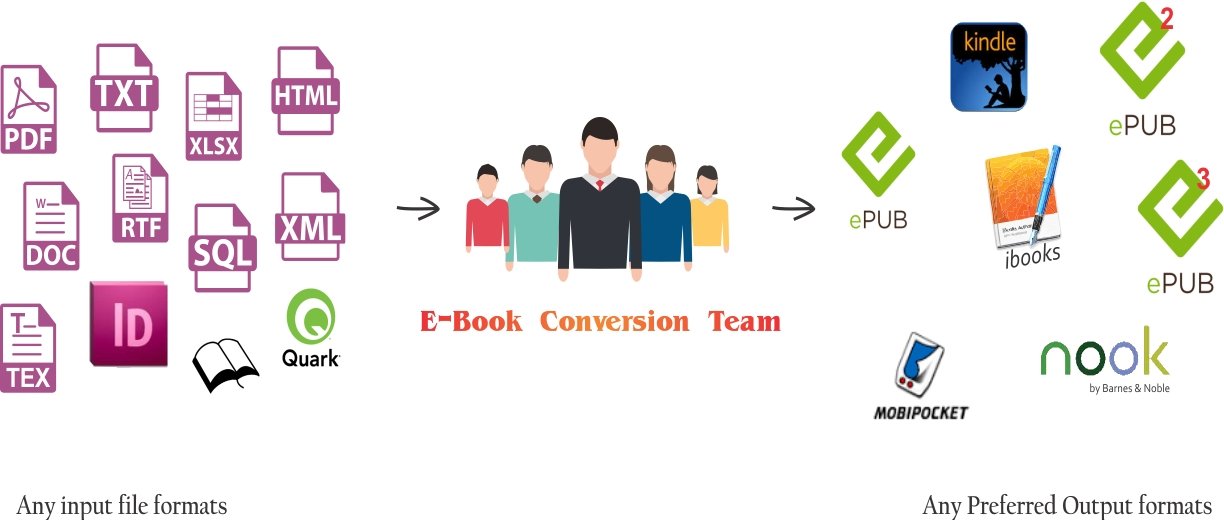 Our highly skilled and proficient team of eBook conversion eases the process of converting your provided source file into eBook of any desired format. We are so competent to manage any number of pages well before your scheduled time frame. Besides, we are able to generate e-Book with distinguished quality to comply with your preferred eBook reader.
After examining few of your sample pages, we estimate the minimal price range that benefits you. Meanwhile you will get the worked sample output along with ebook conversion quote. In this regard, we compete with other offshore eBook conversion services companies by offering minimal prices with extreme quality.
eBook conversion process workflow
eBook conversion process workflow of Apoyo Corp facilitates our outsourcing partners effectively by undergoing the following pioneering practices:
All source files are received securely through FTP from your end.
Your source file is extracted and segregated into text, images, illustrations, flowcharts, tables, graphs, etc.
The extracted segments are coded up using mark up languages like XML, HTML, and SGML, etc.
The coded scripts are formulated using style sheets into required formats so as to be displayed in accordance with specific e-book devices.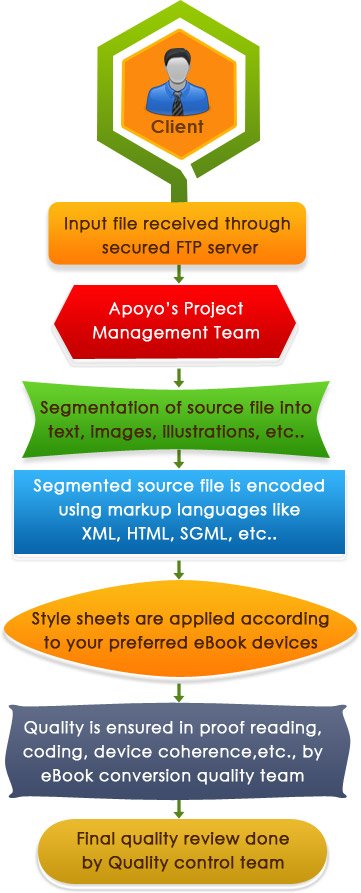 E-book conversion process workflow of Apoyo Corp brightens up the fact that automated converter tools are never employed by us to generate eBooks whatsoever. These mechanical tools always set aside the expectations of Authors and e-Publishers when it comes to eBook quality standards. Most of the headers, footers, flowcharts, graphs, tables, etc., are not well formatted and displayed according to your preferred device as expected while using automated software converters.
Our traditional practice of manual work is done by our experienced eBook conversion team which eventually eliminates all types of errors. Likewise we eternally take care of the formatting and conversion alongside disparate validations to produce an enhanced e-Book. This empowers your ebook to be more accurate and legible in your specified eBook reader.
eBook conversion services source file formats
Apoyo Corp accepts the following two different input file formats for Ebook conversion

Printed books
Printed books which involves scanning pages followed by performing OCR process to convert it into editable files.

Print ready sources
Print ready sources which includes soft copied source formats such as MS Word document, PDF, text files, scanned copies, etc.
If your source file is in printed or scanned version of your book, then the ebook conversion rate will be slightly higher compared to other input file formats. But our pricing structure always stands lower when compared to other offshore ebook conversion companies when accounting quality.
With ultimate quality, Apoyo Corp's Ebook conversion team is able to convert any source files into e-pub formats such as normal, multimedia, fixed layout, read aloud, reflowable and mobi formats including normal, kf8 fixed layout, multi CSS, etc.
ePub conversion services
ePub is the universally accepted format since it's an open source and readable by most eReaders, tablets and even on mobile devices. Regards, ebook readers - iPad, nook, Sony reader, Kobo reader, kindle iPad and kindle fire supports ePub or ePub fixed layout formats. These formats are preferred by very small authors to big publishing houses.
ePub serves as a primary format and our ePub conversion team is capable of converting any source files into ePub format. The most common conversions performed by us are as follows
- Word into epub format
- Pdf into epub format
- Indesign into epub format
- Book or scanned book into epub format
- Html into epub format
- Kindle into epub format
- Quark into epub format
Our ePub conversion services comprises both formatting and conversion services which includes numerous elements such as Indexing, tagging, hyper links, responsive cover page, pagination, removal of blank pages, etc. On outsourcing to us, we are actually formatting it by converting to your required format. It's not just the conversion offered by obsolete ebook conversion software.
Next to ePub, the highly recommended and most desired format is Kindle.
Kindle eBook conversion services
Apoyo Corp provides magnificent kindle eBook conversion services for authors and all types of publishing houses. ePub and Kindle are the two most favorable formats when it comes to ebooks.
Whether you are a publisher or a self-publishing author, you could prefer Amazon Kindle Direct Publishing for ebook marketing. Amazon is perhaps an immense online eBook retailer. Kindle has an extensive ebook audience which makes it a robust e-reader currently available. In order to elevate your ebook sales, you could format and upload to Amazon Kindle.
Ebook conversion for kindle plays a significant role in formatting your manuscript to Amazon Kindle e-book readers. We are able to format and convert any input file into kindle format as follows.
- PDF or scanned PDF converted into Kindle format
- Word Doc converted into Kindle format
- ePub converted into Kindle format
- XML converted into Kindle format
- Book converted into Kindle format
- HTML converted into Kindle format
- XML converted into Kindle format
- SQL converted into Kindle format
- HTML converted into Kindle format
- Kindle Format 8 (kf8) format, etc.
Apart from epub and kindle formatting and conversion services, our ebook conversion team is able to convert your file into any other required format depending on your platform you are looking to launch and market your ebooks.
Professional ebook conversion services: How to acquire the best?
If you are a publisher or self publishing author, please keep in mind that bad formatting affects ebook sales. No wonder, you need a professional ebook conversion service provider, to back you with standard ebook formatting service. In order to acquire the best, test the formatting teams with your samples or review their recent converted ebook to ensure the quality of their service.
Professional ebook conversion services of Apoyo Corp is initiated with a free sample. A reasonable quote would be given considering number of pages, output format and allotted time without any quality drop. You can analyze both the output for your sample and the price quoted. If that satisfies you completely, you can go ahead and outsource your ebook formatting and conversion projects to us.
Contact us to get a quote by filling our ebook conversion quote request form.