Data Cleansing Services
Apoyo Corp's data cleansing services include reliable data validation with easy and strategic approach for better analytical productivity.
Having a huge database won't help much if the data given is inaccurate or incorrect. Being a professional data cleansing outsourcing company, Apoyo Corp optimizes your database with sales and marketing efforts to get a better ROI.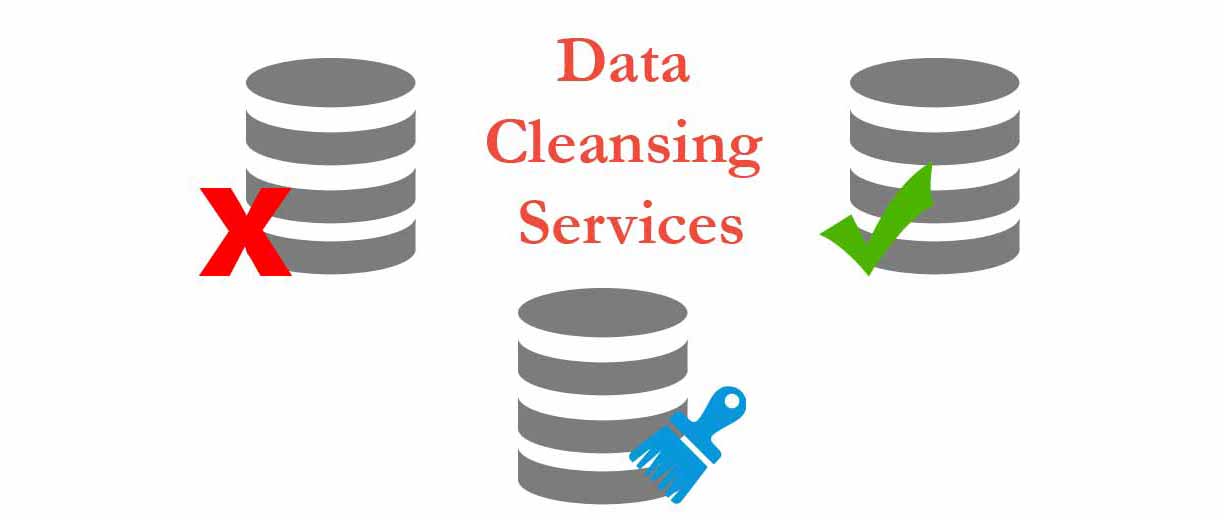 We help you in networking your database professionally and help achieve superior targeted sales with sincere marketing campaigns.
We update all your old data and perform all the reliability checks to provide the best results.
We make sure that all the attribute names are reliable and create data collection to provide more valuable data to the clients.
Why Do You Need a Data Cleansing Service?
All the data, which relate to different customers, require getting stored in the well-organized format so that it can be used easily when needed.
Having similar data at various sources as well as not able to sustain updated and precise data is the biggest concern of the majority of companies today.
It proves to be the biggest disadvantage for the companies while targeting the prospective customers and that's where Apoyo Corp's online data cleansing services can help you.
What is Data Scrubbing?
Data scrubbing means doing data analysis or review the current data. It consists of checking unfinished records, invalid or duplicate entries.
Data scrubbing is generally done before the conversion of CRM systems or databases. Apoyo Corp has the expertise in providing the best data scrubbing services.
Why the Data Enrichment Services are needed?
When your business becomes successful and the customer base increases, it becomes really difficult to keep the records updated.
Therefore, it's quite possible that you waste your time in storing databases with older and inaccurate details!
Data enrichment services can help you keep track on the customer base and deal with them in a better way.
Outsourcing data cleansing services will make you worry-free about the inaccurate data!
Is Data cleansing the same Procedure like Data Scrubbing?
Yes, absolutely! Data cleansing is the same process as data scrubbing.
There is no difference between data cleansing and data scrubbing. Both these terms are completely identical and they mean - to make the current data better with taking different improvement steps.
Importance of Data Cleansing
Data cleansing is an extremely valuable procedure, which can help businesses save time and increase their competence.
Different organizations use data cleansing services to remove copied, badly-formatted, incomplete and incorrect data from databases, marketing lists and CRM's.
With data scrubbing services, you can achieve results in a very short time period which generally takes days or even weeks to do manually!
So, the companies could save both time and money just by acquiring professional data cleansing services.
Getting a professional data cleansing service is very important for the organizations like banks, government organizations and small-to-medium businesses which have huge amount of data.
Any business having consistent amount of data should hire professional data cleansing services.
You should use these services on a regular basis to avoid inaccurate data growth, which results in the fall of business efficiency!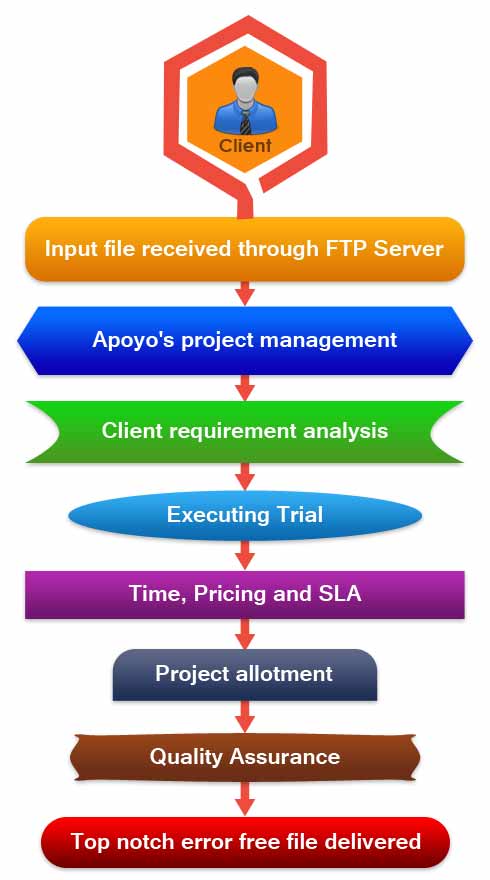 How Apoyo Corp Handles Data Cleansing?
a. Data Cleansing Process
Define the Project Scope

Initially, we outline the scope of client's requirements of data cleansing.

Project Trial

We execute a trial as per the clients' inputs.

Time, Pricing and SLA

We analyze the time required, the resources to be used and the pricing. We also provide SLA (Service Level Agreement) at this stage.

Project Allotment

Our Project Manager will finalize the data cleansing team.

Data Cleansing Execution

We perform data cleansing execution according to the project and make sure that the data gets completely cleansed.

Quality Assurance

The QA team does quality checks to make sure that the data cleansing is completely error-free.

Timely Delivery

We upload the required outputs on client's portal.
b. Data Cleansing Strategy
A data cleansing strategy is the strategic approach of data cleansing and data scrubbing.
Data cleansing is a continuous business procedure where incorrect, outdated or corrupted are perceived and then rectified or removed.
For an effective data cleansing strategy, you need a person who is accountable for the delivery in your business.
At Apoyo Corp, we use different automated data cleansing techniques to fix different issues like inaccurate postcodes, removal of duplicate entries, and more.
Our data cleansing services consume lesser time and improve the data accuracy at lower costs than the manual updates.
It's important to cleanse the data constantly for maximum success!
c. Types of Data Cleansing
Online Data Cleansing

We will update your customers' data online on your website or the database where the data is stored with our online data cleansing service.

We will update all the data online with 100% precision.

Address Data Cleansing

Apoyo Corp makes corrections and updates in the address database of the people that might have shifted from another address with address data cleansing.

This ensures that your company's contact with the customers reaches seamlessly every time you do a campaign.

Contact Data Cleansing

Apoyo Corp makes corrections of people's contact details with contact data cleansing.

We make sure that all the contact details are updated and your company stays in touch with your customers anytime.

Customer Data Cleansing

We also correct and update all the customer data with customer data cleansing.

We update the whole database with all the customer data to help companies have complete data of their customers.

Data Cleansing in Excel

If you have huge amount of data in an excel sheet and you want to update the data then you can use our data cleaning in Excel services.

We will update all the information given in the excel sheet with perfection.
Why Should You Outsource Data Cleansing Process to Apoyo Corp?
Apoyo Corp is well experienced across different industry verticals to deliver the best-in-its-class Data Cleansing Services.
Here are some reasons why you should outsource data cleansing process to Apoyo Corp:
Affordable Pricing
Apoyo Corp offers best data cleansing services at affordable prices.
We make sure that the companies can successfully run their campaigns with no compromise in the database associated errors.
Your operational cost will be reduced by minimum 30% to 50%!
1. Excellent Infrastructure
We work with the latest processors, cloud-based storage, high security and data back-up solutions to provide you the finest data management services.
2. Proper Communication and Procedure
Apoyo Corp follows a proper procedure, which helps in maintaining proper communication.
We also ensure that the progress and requirements of the assignment are clearly discussed with the clients.
3. Highly Secured Data
Apoyo Corp maintains privacy agreements with the employees and systems security dealings.
We make all your data highly secured to ensure that all the critical data is safe with us.
4. Skilled Workforce
Apoyo Corp has wide-ranging skills in project management of different sizes.
We have teams of data analysts that are compliant with different hands-on work including all types of requests and complex data.
5. Quality Assurance
Apoyo Corp applies a multi-level quality check procedure to provide error-free and highly accurate data cleansing services.
6. Wide-ranging Portfolio
Apoyo Corp has a wide-ranging portfolio and we provide an extensive range of data cleansing services that makes us amongst the best data cleansing service providers.
7. Quick Turnaround
Apoyo Corp always follows a streamlined procedure so that we always successfully complete our projects within the given deadlines.
Are you looking for the best data cleansing services?
Contact us with your queries regarding outsourcing data cleansing requirements and we will revert within 24 hours!