Data entry services
Apoyo Corp's data entry services include back office data processing, data conversion and data cleansing services.
Data typing is done mainly to convert source files in paper and image formats into required electronic formats. Primarily the converted e-formats are in MS Word, MS Excel, PDF, SGML, HTML, XML, etc.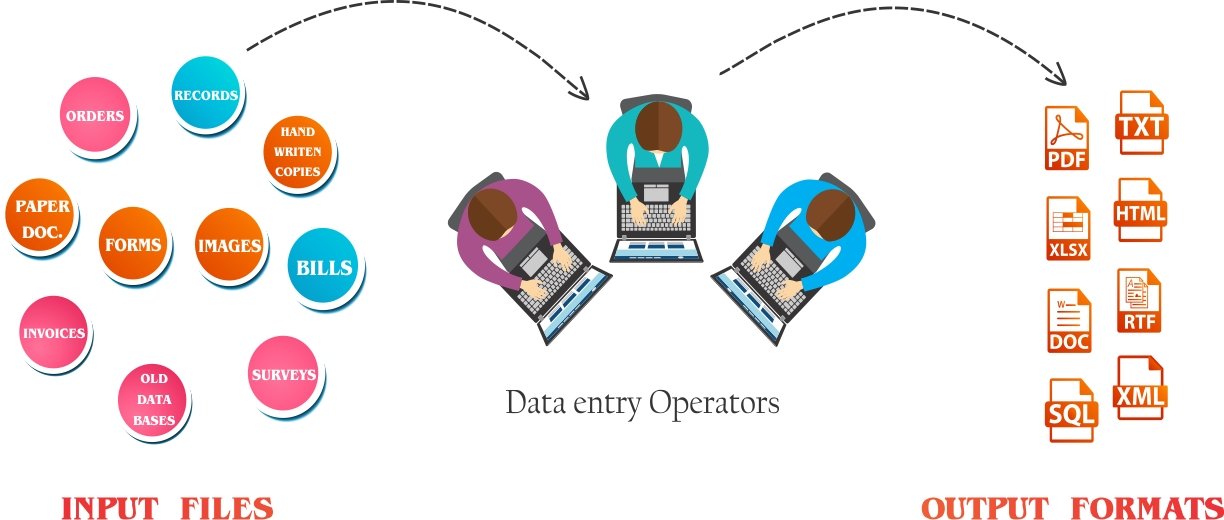 Having undergone data entry operations, the obtained e-format data is highly valuable to your business. These formats are easily fetch-able and manageable at any time which helps you build and implement new strategies.
Our wide range of services include compiling data collected from online, offline, image, survey, form and remote type of resources to compile, comprehend and analyze the data rationally.
Offline & Online data entry services
Apoyo Corp excels in both online and offline data entry services. Our data entry team is able to comprehend your organization needs irrespective of whatever industry you are in.
We are able to work in all major verticals such as Banking & Financial services, Healthcare & Insurance, Medical, Logistics & Transportation, E-commerce, Education, Travels, Hotels & Restaurants, Airlines, Railways, Energy, etc.
Offline data entry services
Apoyo Corp is able to execute all types of offline data typing and input services for major industries at reasonable costs. The data collected and entered are always accurate to meet your high quality standards.
Our standard data entries performed offline are
1. Collecting and entering data from any source into required platform
- Formatting data into PDF, MS word document, Excel, etc.
2. Fetching data from scanned images
- Typing and processing data from images in any format like jpg, jpeg, tiff, etc.
3. Creating and updating database
- Gathering and assembling the verified data archived up to date.
4. Form filling and processing
- Performing Data Entry of all types of forms involving survey forms, orders, invoices, bills, vouchers, receipts, etc.
5. Transforming data electronically
- Digitalizing the data from hardcopies such as handwritten documents, papers/books, Magazines, Manuscripts, catalogues, business cards, E-books, etc.
We adapt and support any industry by offering offline services.
For instance in Medical industry, entering records of the patients, typing patients' notes, maintaining hospital records, stock reports, e-formatting patients' bills, etc.
In financial industry, offline data entry include manually typing insurance claims, banking documents, payroll processing, checks, etc.
Online data entry service
Apoyo Corp's online data entry involve typing the data online to any web oriented platforms.
We are able to manipulate multiple online data entry services such as
Online Data Entries
This includes entering the data online into your desired web URLs, thereby converting all of your hard/soft copy into any database format located online.
Extraction of data from Images and feeding them online.
Copying and pasting the data in your web platforms.
Editing, sorting and indexing the data.
Filling up the orders, forms, surveys, documents, etc., online into the specified web address.
Generating up to date database by entering new and existing data.
Confidential hand written and legal documents into online documentation.
Online data entry of Business cards.
Product catalogues data entry by entering and then converting the data electronically.
E-books & e-magazine data entry.
We are able to work with various industries and perform data entry operations according to your varied requirements.
For illustration, find few examples of online data entry works
Medical:
Data entry done online by entering and updating records, forms, etc, of patients, doctors, hospitals, etc.
Filling up claims, reports, sheets, etc., for insurance, accident coverage, etc.
Logistics & shipping:
Online database maintenance of import and export of goods.
All documents and records are updated regarding shipping.
Financial:
Online data entry of Receipts (bills), credit card applications, coupons etc
Apoyo Corp's highly experienced professionals are able to handle huge volumes of data efficiently using improvised technologies to bring out excellent results. Data entry services made easy for you since we are able to expand our team at any time according to your campaign needs. Our data entry services specialists are well known for data accuracy and can work on multiple shifts - 24*7 to complete the project within the stipulated time.
Data entry workflow of Apoyo Corp
Data entry workflow of Apoyo Corp begins with receiving data from your end through secured transmission.
Initially our project management team assigns the same task to two different significant teams.
Respective results obtained from both the teams undergo rigorous quality checks individually.
The above two quality checked outputs are then compared to figure out the mismatches if any.
The final quality review is done by Quality control team before delivering error free end results to you on time.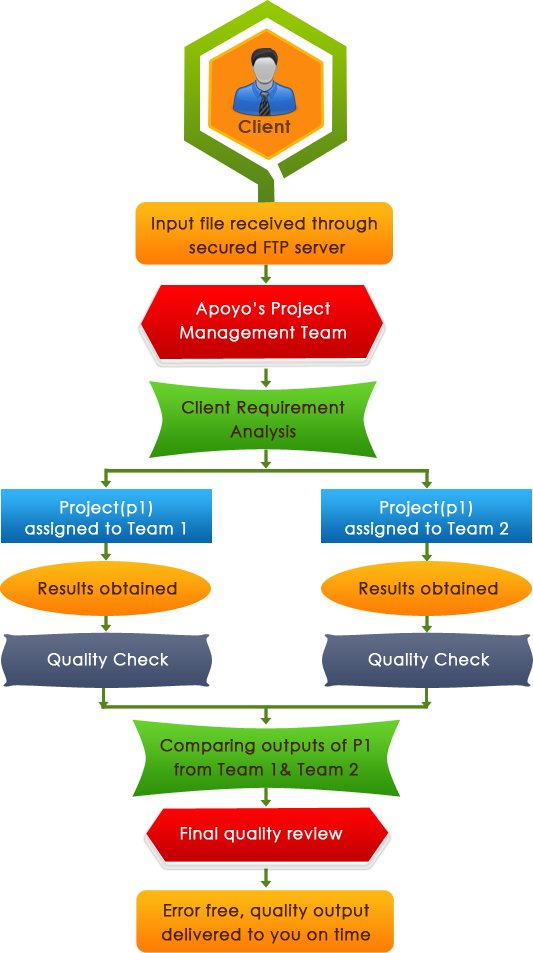 We take the utmost care in executing your data entry needs throughout the work cycle as described and illustrated above. By following this module, our team is able to produce high end results consistently.
Offshore Data Entry Services Pricing: Cheap & Affordable
The pricing offered by offshore companies like Apoyo Corp is always minimal. It's completely affordable by all the companies that need data entry services for their business.
Without choosing data entry service providers in India, you could perform the job by recruiting typing operators or outsourcing to any major outsourcing company in your country.
The cost involved in the execution of the project, either way, is higher. Undertaking this secondary task of your organization results in overspending which is completely unnecessary. On preferring data entry service providers in India you could save 40-60% of your company's operational cost of the service required.
When you hire someone in-house, you need to pay around $10-$15 USD/ hour/operator. By outsourcing smartly to an offshore data entry company like Apoyo Corp, you will be paying us only 40-60% of the above amount mentioned.
So always offshore data entry services pricing seems to be the cheapest and best services on accounting time and quality. This affordable service established by service providers in India not only stand top on cost but also on producing high-quality standards.
Benefits of outsourcing data entry to Apoyo Corp

Excellent quality
Dedicated team of experts sticks to efficiency and accuracy leading to high end results with best quality.

Minimal cost
We offer best services available in the market at affordable cost without quality depreciation.

Time bound results
With proficient team members, our workflow happens in a quick turnaround time to produce accurate results.

Data security
As per Apoyo's policies, we verily safeguard your details, input data and anything related to the workflow in a secured manner and never discloses those to any unauthorized individuals.

Flexibility
We, at Apoyo are versatile enough to handle any volume of data within the stipulated time period based on your requirements.
Being a professional data entry service provider, we always stand high and provide the best solution for your business.
Irrespective of your industry and size of your company, we allocate our team exclusively for digitizing your data. By outsourcing your non-core data entry needs, we are pretty sure that you will save more money and time. Concentrating on your main business objectives and modules will even drive you to earn more money and time.
Are you looking for an accomplished data entry service provider?
Contact us today to get a free quote. Also, our experts will work and send back the completed sample file to you to review our quality.