E-Book Publishing Services
EBook Publishing services of Apoyo Corp primarily focus on helping our global partners like authors, publishing houses, etc., to achieve high standards in electronic publishing industry. We assist authors, aggregators, distributors like you in formatting and converting the manuscript into your essential formats.
After conversion, authors can upload their eBook to online retailers directly. E-book aggregators can upload eBook to their own stores and also their partnered retailers. We are well known for our reliability in digital publishing since we are able to format and convert your manuscript into error free eBooks. This is achieved by our well equipped resources, highly qualified production team and flexible management professionals.
On outsourcing your ePublishing requirements, we guarantee that you will get superior quality solutions at minimal price delivered on time.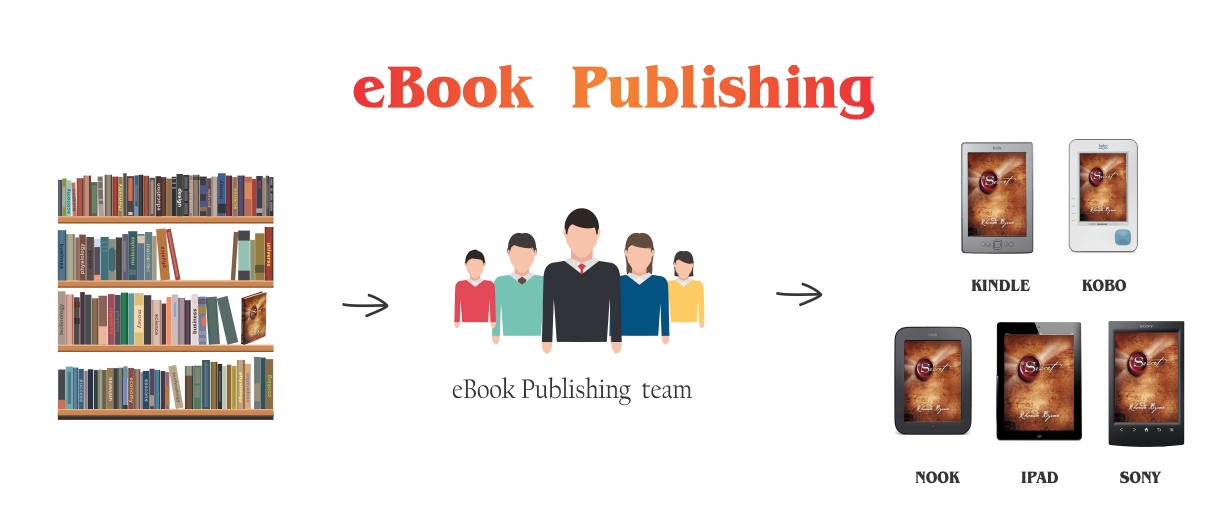 Our unique strength lies with our experienced team of ePublishing experts who manually type and create codes rather than using any automated tools. By doing so, we completely prevent data loss from the very first stage until completion of the entire workflow which in turn brings out excellence in quality standards.
It's always wise to choose us for your ePublishing needs. We are able to help you and your Clients in saving a lot of time, energy and money when compared to assigning the same task to your internal team.
EBook Publishing services workflow of Apoyo Corp:
EBook Publishing services workflow of Apoyo Corp begins with Client requirement analysis. Our project management team analyses the input file received through our secured FTP server.
We then disseminate the source file into text, images, illustrations, tables, etc., to provide appropriate tagging and styling according to device based output formats.
Standard Proof reading is performed to sort out all types of errors, if any, before conducting multiple quality checks.
After executing various device based quality checks, final quality review is done by our quality control team to provide high quality error free output.

After analyzing the requirements and complexity through your sample pages, we place forward a low priced quotation along with the preordained time required for completion.
Our team is expandable and flexible enough to work on urgent requirements and to process adhoc requests adhering to your demands without quality depreciation.
EBook publishing Clients: Whom do we work with?
We are highly trusted outsourcing partners for self publishing authors, small, medium and large sized publishers, aggregators, distributors, etc., since we always focus on quality, time and cost.
We work with all types of E-publishing content irrespective of the genre. The renowned categories are mainly as under
Children Books
Science, Technology and Medicine books (STM) publishing
Journals
Magazines
Newsletters
K-12 books
Read aloud books
Math ML books
Flip books, etc.
Our well trained and organized formatting experts in eBook publishing service execute our strategies efficiently to achieve high end results, thereby retaining our eBook publishing outsourcing partners.
E-Book publishing: Self Publish or Aggregator?
Once you have created your manuscript, you will be in a dilemma
Whether to self-publish or
Publish through any eBook aggregator or distributor?
The fundamental difference between the two publishing channels is
Self-Publishing - You have to add your eBook to every single retailer for distribution.
E-book aggregators / distributors - You have chosen to use their multi retailer list for distribution.
If you are looking to self publish your book, you need to find experts for editorial services, composition services and conversion services.
If you are looking to work with eBook aggregators, you need to find the best eBook distribution services in the market. They should be able to cover up the major eBook audience in order to generate good revenues.
First, we will let you know how to self publish and the platform needed for distribution etc.
Second, how book aggregators come in handy, who take care of converting your manuscript into requisite formats corresponding to different eBook retailers?
EBook self publishing: How to self publish?
In the self publishing domain, you have to take care of the following sections to ensure that your eBook is remarkable for sales.
Editorial part:
Here proof reading, copyediting, indexing etc. should be considered. Also you should analyze the content quality and perfection of the data or information provided.
Composition section:
Whether you are creating an e-book, e-Magazine or newsletter, it's mandatory to use multimedia rich content. This will keep engaging your readers. Design, illustrations, images, cover page, typesetting, etc., are the major attributes.
Conversion part:
In order to format and convert your manuscript, you need a professional eBook conversion service provider. By choosing the best, they will deliver you quality e-books.
Apoyo Corp's eBook conversion team precisely converts your manuscript into any type of eBook format. With this converted eBook you can approach your preferred eBook retailers for distribution.
EBook publishing platforms /sites: Self publishing an eBook
After you finish developing eBooks, there comes the two significant parts i.e. eBook promotion and distribution. The following primarily preferred platforms or websites help you to self publish your eBooks. Many Independent authors and publishers publish their eBooks through these e-book retailers. They believe that these platforms/sites could spotlight their e-Books by reaching majority e-book buyers and bring more sales and revenue.
1. Kindle Direct Publishing
- Kindle direct publishing is owned by Amazon.com, Inc.
The formats accepted by KDP are Mobi and AZW which are suitable for older Kindle types and Kf8 format supported by Kindle fire. Kf8 format is supported by older kindles also but not completely.
If the price you have listed for your ebook is between $0.99 and $2.99, then your royalty is 35% of the revenue from the sales.
You will get 70% royalty on the price listed, if you set the list price between
$2.99 - $9.99.
2. Barnes and Noble's Nook
- It is owned and operated by Barnes & Noble, Inc.
EPub is the standard format accepted by Barnes and Noble's Nook.
The royalty will be 40% to you if your list price varies between $0.99 and $2.98. It also stands the same to the list price for $10 or above.
If your list price exists between $2.99 and $9.99, you can claim the royalty of 65%.
3. IBooks Author
- It is owned by renowned Apple Inc.
The formats accepted by Ibooks are ePub and Iba. Here Iba is the format developed by Apple for e-books.
Your royalty on Ibooks author will be 70% of the sales on your list price.
4. Kobo Writing Life
- It is founded by Rakuten Kobo Inc
Epub is the usual format accepted by Kobo for distribution.
70% royalty is given by Kobo to its authors if they list the price ranging from $1.99 to $12.99 USD.
45% royalty is provided if authors sell their eBooks between $12.99 - $99 USD and also for ebooks priced below $1.99.
5. Google play eBook publishing
- It is owned by Google Inc
Again ePub is the format accepted by Google play from authors.
Royalty will be approximately 52% of your total sales through Google Play.
Being an independent or self publishing author, you need to sell your ebook to major retailers mentioned above. In order to place and market your eBooks there, ePub and Mobi are the two common formats you need to acquire.
Reach us to get an affordable quote for eBook formatting services.
EBook publishing Aggregators/ Distributors
EBook publishing Aggregators and distributors provide additional eBook services such as composition, editorial, formatting services as well as creating custom images, book cover etc.
The most popular eBook aggregators/distributors are as follows
1. Lulu
- It is established by Lulu Press, Inc
They have their own bookstore i.e. Lulu Bookstore. They will give you 90% of royalty if you sell through their store.
Lulu also markets your eBook to major online retailers such as Amazon, Kobo, the Apple iBookstore, Barnes & Noble, etc.
Apart from promotion and distribution, you can Go Pro for $799.
Lulu eBook publishing team takes care of the following features
- EBook cover designs
- Interior design and layout
- EBook formatting and creation
- EBook promotion and distribution
A professional eBook publishing assistant will be in place to create an enhanced eBook which will be sold ultimately in the market.
2. BookBaby
Bookbaby promotes and distributes your ebooks to major retailers like iBooks (for iPad) ,Amazon (for Kindle), Barnes & Noble (for NOOK), Kobo, etc.
Royalties are 85% of the revenue generated by their retailers.
You can go PRO for $299, where their ePublishing experts will take care of
- EBook conversion
- Promotion
- Distribution
Here they will pay you 100% of your net revenue from their retailers.
Apart from conversion, promotion and distribution, Bookbaby offers basic cover design for $149 and deluxe cover design for $279.
3. Smashwords
Smashwords publish their author's eBooks in their own store - Smashwords Store and also publish it in many retailers such as Apple iBooks, Barnes & Noble, Kobo, Scribd, Gardners, etc.
Smashwords will pay you a royalty of 85% if your eBook is sold through them. Also, the royalty will be 60% if you sell through their eBook retailers with whom they are partnered.
In order to handle such huge volumes from authors efficiently, we suggest you to outsource your ebook formatting & conversion services.
Contact us with your requirements to get a free reasonable quote for eBook conversion.
Competitive benefits of outsourcing ePublishing - Formatting services to Apoyo Corp

Secured Data Server
We value your data security as the top most priority and hence all end to end data transmissions are done through secured path.

Guaranteed Quality
Our experienced conversion quality control team is highly efficient in delivering the completed e-book in any required format without any flaw.

Competitive pricing
Our outsourcing Partners always enjoy reasonable and competitive eBook conversion cost by choosing us smartly.

Support
We are available through Email, Phone or Instant messenger to assist you in providing you status updates and reports of your files.
Reach us to get a free quote by filling up the eBook conversion quote form along with a short description about your requirements.