Why outsource for professional eBook formatting services?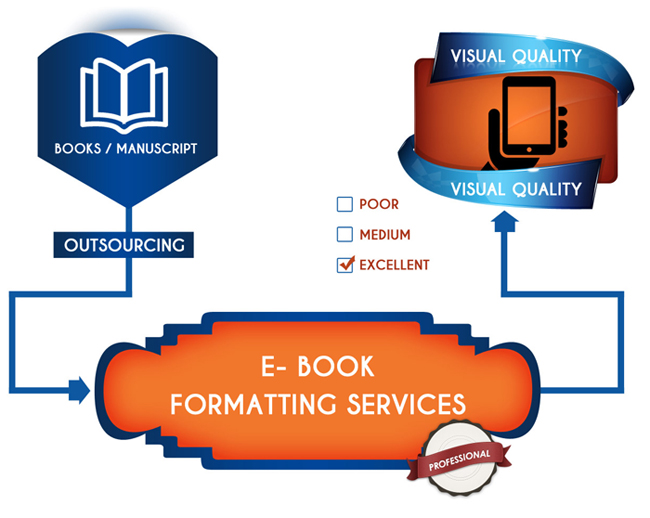 Many productive eBook aggregators, distributors, developers, publishers like you assist authors with wide range of supplementary services. These services include designing the cover page and images, editing, proof reading, purchasing of ISBN and of course eBook formatting services. Alongside formatting, you are handling distribution, marketing and sales of eBooks on your own publishing sites and also on other online retailers.
After supporting and guiding your authors in regards to composition, editorial, proof reading, alignments, custom images etc comes the next remarkable part which is formatting.
Here, a question occurs whether it needs to be performed by your domestic eBook production team (or) getting a part-time freelancer (or) by outsourcing to a professional eBook formatting services onshore/offshore. It's always the offshore outsourcing model that proves to be an effective solution on accounting quality, time, cost and technology as major components.
This post explains why formatting is so significant when it comes to eBooks and also how and why to acquire a professional eBook formatting service to your authors.
Why e-book formatting is so important?
After preparing the manuscript in Word, PDF or any other input format, authors approach you to format, distribute and sell their eBook worldwide. Whether they are new or not so familiar in formatting, they rely on you completely in regards to e-book formatting and conversion.
Irrespective of whether you charge them an upfront fee for sales or e-book formatting services charges or any other add-on fees or not, it's your sole responsibility to take supreme supervision in all stages of e-book production. The e-book formatting segment needs utmost care to produce quality e-Books.
Quality seems to be the primary element than cost when it comes to sales. Content quality and e-book formatting are meant to be so splendid for achieving an exceptional reader experience. It could be done only by applying standard e-book formatting and conversion techniques.
Even a well written e-book may go for lesser downloads due to an unpleasant user experience caused by poor eBook formatting services.
How deficit ebook formatting service affects eBook sales?
The undeniable fact is that there is a rapid increase in the need of digital content like eBooks as well as the expectations of the user's reading experience. As a proficient eBook aggregator/distributor, you should enhance your author's eBook sales by offering a distinguished eBook formatting service.

The following facts explain how poor formatting affects eBook sales.
1. Solemn Survey
Surveys are conducted using polls, census, Q&As etc to apply a statistical approach for any industrial complication.
A survey was performed by Data Conversion Laboratory (DC Lab) and Bowker on the components affecting eBook sales. In that survey, 68% of defendants polled that eBook formatting quality is being a primary factor that lowers down the eBook sales.
2. Referrals & Reviews
If a reader enjoys an eBook thoroughly, it induces him/ her to speak about that eBook to his/ her friends, colleagues, etc. The best part is that they may share it on social media and recommend it to their well knowns.
These referrals may stimulate more sales by gaining natural popularity. This won't happen for a deficient eBook caused by poor eBook formatting service. On the other hand, this bad experience might test the reader's tolerance which would definitely degrade the author's reputation.
3. Unpleasant visual experience
Professional eBook formatting services enable fonts, margins, colors, images, etc to be visually enticing. The design of the cover page needs to be more delightful enough to captivate the buyers/readers. It has to encourage them to purchase and download the eBook.
The obsolete blurry eBook doesn't take a stand amongst professionally formatted eBooks.
So as an authority, you can produce superior eBooks by utilizing premier eBook formatting services.
How to provide professional ebook formatting for your authors?
In order to acquire ultimate professional eBook formatting, there are three different choices.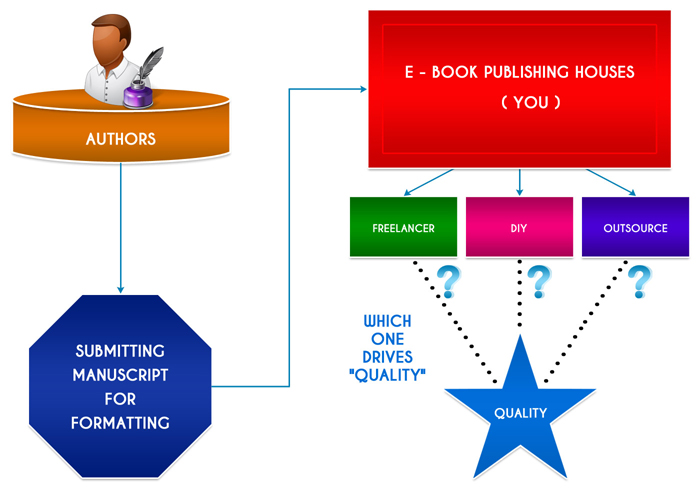 1. Finding a Freelancer
On hiring a part-time professional eBook formatting expert, you can get your work done for your authors. To get a first rate formatted eBook, you need a top notch freelancer in ePublishing industry which costs you more.
These freelancers can produce quality eBooks if they are skilled enough to do so. If they are not capable, it would require more money, effort and time. You need a quality team too to check whether the files are formatted and converted appropriately.
So you need to be more careful in choosing your freelancers. The obstructive factors that let you down while working with freelancers are communication gap, unprofessional or uncooperative approach, slipping control, high turnaround time, etc.
Of course there are plenty of businesslike freelancers out there. But the cost of employing them is relatively high.
This module may be suitable for indie authors where the workflow is simplified and there is sufficient time to concentrate on a single eBook.
Highly recognized freelancer sites are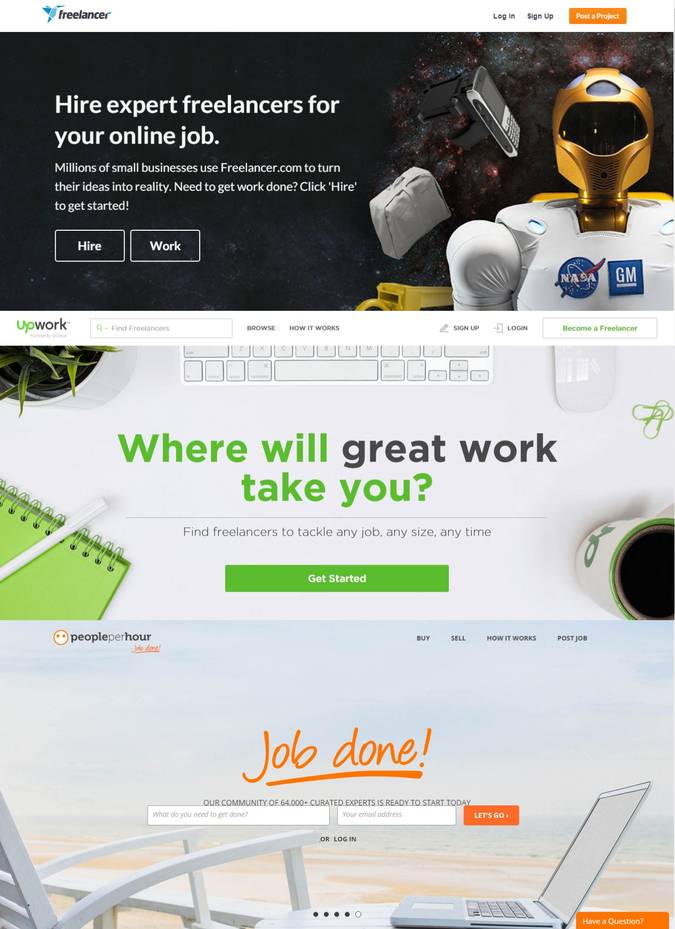 1. www.peopleperhour.com - Here you can hire eBook formatting experts on hourly rates.
2. www.freelancer.com - This allows you to post your eBook formatting project where all freelancers compete with their best bids. You can pick the freelancer with the best quote and having positive reviews.
3. www.upwork.com - Elance & oDesk co-ordinates to form Upwork. Herewith you are able to hire eBook formatting freelancers on hourly rates.
Moderate freelancers with lower cost will not be more effective. Efficient eBook formatting freelancers will never be cheap.
2. In-house team or Do It Yourself (DIY)
This involves vast time span and more efforts to get skilled eBook conversion experts in position with economical wages.
The eBook files developed by the production team need to be inspected by your Quality control team for guaranteed quality. Also the entire team and workflow need to be administrated by your production manager.
This version may be suitable enough for small sized publishers. If you are a medium or large sized publisher, with low man power and you have too many authors approaching you for formatting and distribution, it will be very difficult for you to allocate the project to different teams and complete it on time.
For this realistic reason, many top ranking digital publishing houses in the world outsource to offshore companies offering eBook formatting services.
We accept the certainty that you can attain splendid quality with your internal team. But the volume and cost plays a critical role thus leading towards outsourcing. The same quality can be obtained by offshore companies too at a relatively low cost.
3. Outsourcing to Offshore companies
The last but not the least possible option is to look for and outsource to a professional offshore eBook formatting service provider. An offshore company can hire industrial experts with lower wages compared to yours.
With our systematic approach, we always tend to produce quality eBooks since we toil to get the best output with our team of experienced eBook formatting experts.
Moreover we often expand our production, QC, delivery team then and there to meet the required quantity and quality. Abundant quality formatting executives empower us to deliver the output file on or before your preferred time.
"In the long run, outsourcing is another form of trade that benefits the U.S. economy by giving us cheaper ways to do things."
- Janet Louise Yellen, US economist & Chair of the Board of Governors of the Federal Reserve System.
These are the three possible aspects for granting accomplished eBook formatting services to your authors.
Small indie authors and very small eBook publishing houses get satisfied with freelancers and internal team of e-book formatting services respectively. Remaining eBook publishing houses find a bit inconvenience with freelancers because of losing control, quality issues,longer time frame, excessive price etc. On the other hand, internal team comes in handy for small ePublishing houses to produce quality results but the cost stands 2-3 times higher than outsourcing to offshore professionals and the production is always low due to small labor force.
Ebook formatting services - Offshore Outsourcing benefits
E-Book aggregators, distributors and developers enjoy tremendous benefits on outsourcing eBook formatting services to offshore companies as cited below.
1. Low pricing
The ultimate key in outsourcing projects is to slash the operational cost without quality depreciation. In offshore outsourcing, you will get an affordable low price for formatting and conversion services for your Client books.
Simply approach us with the number of pages, required format and complexity of your file. We will let you know the best affordable non-compelling quote for formatting.
2. Well accomplished team
We have high skilled eBook production specialists and QC experts in hand to monitor the step by step process involved in constructing eBooks. An ultimate inspection is keenly performed by our output delivery team to ensure quality before delivery.
3. Technology & Customization
We rely on the most advanced software and tools for performing eBook conversion which eventually increases the user readability level.
With your style guide and directives, we provide customized output by accurately sticking to your requirements in the desired format.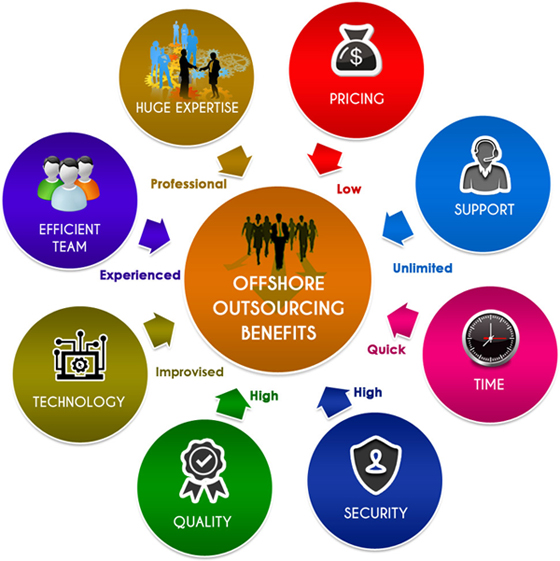 4. Superlative quality
The output file in your expected format is produced by our eBook production team. This file is confronted by two different quality checks by our QC team to eliminate errors.
The output file is thoroughly examined by the final review team ensuring quality and to make it ready for delivering to the Client.
5. Data security
Data security remains as our first and foremost concern throughout our workflow. We pledge to protect your author's input document and never reveal it to any third party at any cost. Also the transmission always takes place only through our secured FTP.
6. Quick processing time
With our ample productive eBook conversion team, we always strive hard to format and send the eBook in your avid format before allotted time incorporating phenomenal quality.
7. Client support
You can reach our support team any time via email, message or phone call to know about the status of your file. We are also open to answer any other related queries.
These seven aspects strengthen offshore eBook formatting services to provide flawless eBook to aggregators, distributors and retailers.
Partner with professional ebook formatting service:
Healthy professional eBook formatting demands massive efforts and best practices that are more consistent in regards to quality standards. With your preferred formats, along with directives and style guidelines, aproach us to get the remarkable formatting services for your authors.
Whenever you approach a professional ebook formatting company, before their experts start to work on your book, your sample will be completed and reviewed by you. Also the sample will be followed by an affordable quote to be approved by you. This practice endeavors to deliver flawless eBooks before your desired time with topmost quality.
Always partner with an offshore ePublishing - formatting service provider to get the best and cheapest solution for your eBook formatting needs.