23 Amazing Book Writing Tools That Every Writer Should Know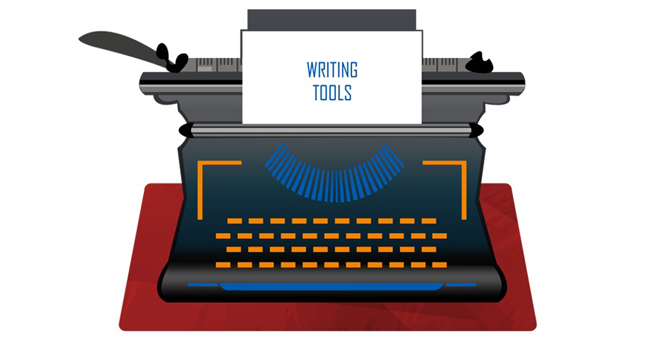 If you want your writing job to be as easy and simple as possible, you really have to take advantage of these below listed productive writing tools.
Whether you are a new writer or virtuoso, whether you are writing a short novel or a long book, you need creative writing tools to achieve your writing goals.
In order to write a perfect book and finish your writing task as per your plan or within a given period, writing tools are unavoidable. On using these tools, you will be able to save a lot of time and efforts that you spend on writing.
These writing tools not only help ordinary book writers but also many eBook writers who want to write spontaneously. Whether you are approaching a publisher or self-publishing by converting your book into eBook, these book-writing tools will be much handier.
Some writing tools help you to come with more creative ideas and thoughts that boost up the readability of your book. By carefully choosing the right tool, you can become a successful writer in a shorter period.
There is a myriad of tools available online-some are free and some have to be bought. Here is the consolidated list of tools that enhance your way of writing at the minimal disposal of time and money. Writing a perfect book becomes an effortless task if you have these tools as they assist you from beginning to the end of your book creation.
23 Amazing Book Writing Tools are
Scrivener
Evernote
750words
ProWritingAid
Hemingway
Readability Score
Thesaurus
Essay Mama
Daily Writing Tips
Learning Path
Coggle
FocusWriter
Ommwriter
WriteMonkey
LitLift
LibreOffice
WriteItNow
Power Writer
Writers' Cafe
Story Craft
Scapple
Sigil
Scribus
1. Tools that Augment Your Book Writing Style
Once you have decided to write a book, you will have numerous ideas in your mind. In fact, you may find it difficult to bring them in words.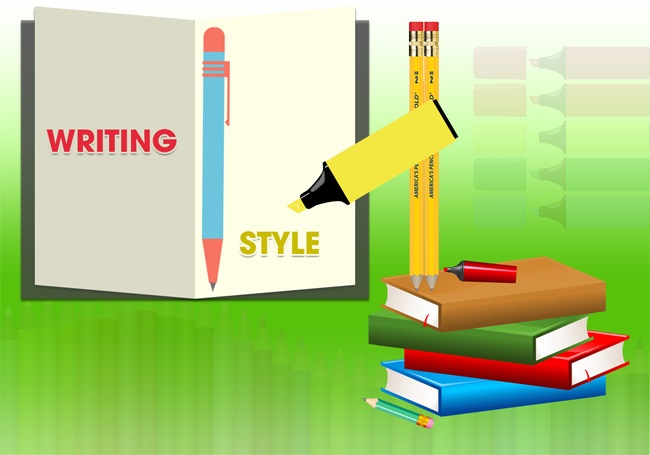 You have to learn a lot, update about what you are writing and arrange your thoughts to include them in appropriate places in the book.
The below-listed tools enable you to hone your writing.
If you are struggling to orchestrate your thoughts and ideas, Scrivener is there for you. It helps you to fine-tune your draft by arranging all your ideas and organizing lengthy documents and files.
Whether you are writing a novel, research article or any other lengthy stuff, Scrivener allows you to compose, outline and structure your ideas in words through its snapshots and dashboard features.
You can also backup your work in Zip files so that you will never lose your project work due to sudden power cut or any other disruptions.
How to Get the Tool
Scrivener can be tried for 30 days completely free. If you are satisfied with this tool, you can continue to use by purchasing it for $40 (for Windows) or $45 (for Macintosh).
Users' Feedback
Scrivener is one of the highly recommended tools for the writers for its efficient features like virtual cock-board, color-coding, manuscript compiling, etc.
However, it is designed only for MAC since synchronization of files and other important features are not included in Windows version. Despite this drawback, many writers use this tool for its noteworthy features.

Sharing is one of the appealing features of Evernote, which enables you to easily collaborate with other writers and gain new ideas for your work. This simple notes taking tool allows you to create notes for your ideas the moment they spark in your mind.
It also enables you to access the notes wherever you go. Besides, these facilities, you can sketch your images, scan documents, write faster and easier than before.
How to Get the Tool
This simple note creation tool is available for writers with three plans-basic, plus and premium. While Evernote basic can be downloaded for free, Evernote plus can be bought for $2.99 per month or $24.99 per year.
You can opt for Evernote premium by paying $5.99 per month or $49.99 per year, which includes some advanced features apart from the basic and plus versions.
Users' Feedback
Users of this tool feel comfortable since it is easy to use and share their ideas. Some users want the editing features of Evernote to be enhanced in free and paid versions.

750words let you learn to write a book with many numbers of words every day in a funny way. This tool boosts up your creativity by encouraging you to write 750 words or more per day for which you will get points.
You can also compare your score with other writers so that you can improve your writing skill and be more competitive.
How to Get the Tool
This online writing tool lets you sign up for free and you can start your practice by simply logging on to its website.
Users' Feedback
The tool lets you learn and keeps you motivated through giving rewards for the number of words you write. It also stores everything online so that you do not have to feed your entries every time you log in to the website.
Yet, some users may feel it unsafe want to store their personal information online.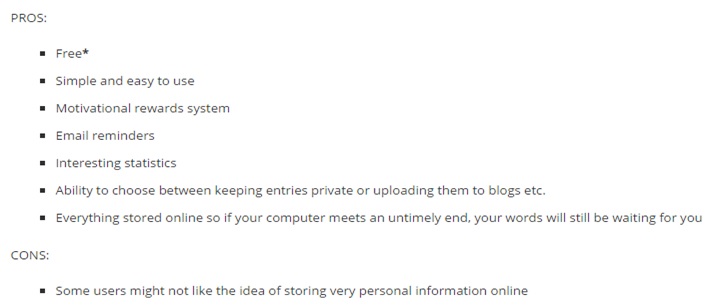 Enhancing the readability of your book is the ultimate purpose of writing. ProWritingAid does this in a simple way by indicating the errors in your writing and giving suggestions for improvement. It also provides a dictionary, quotes, word clouds etc., for writer's benefits.
How to Get the Tool
You can access this tool by registering into the website free. It also gives the users free trial download option for 14 days. If you want to save more editing time, you can go for the premium version by purchasing it for $40 per year.
For using the premium version for more than one year, you have to pay $60 for 2 years and $80 for 3 years. You can get unlimited period version by paying $140.
Users' Feedback
The tool is very handy for technical as well as novice writers. It helps them to avoid major errors at an affordable price. It will be great if its add-in version works without an internet connection and its advanced functions are easy to understand.

Proofreading is an essential part of a perfect writing outcome and Hemingway does this in a perfect way.
When it is difficult for you to write long sentences, this tool helps you to write extra-long sentences without grammatical errors. It also assists you in simplifying complex sentences.
How to Get the Tool
Hemingway can be installed on your PC, laptop or tablet by purchasing it for $9.99. There is no free trial period for this tool but it is worth buying as it enhances your book quality.
Users' Feedback
Hemingway helps you to break down long sentences and simplify them without altering the meaning. However, it cannot be used all the time because it suggests you to avoid adverbs, which must be used in appropriate places.
You can improve the perfection of your book with Readability Score. This tool gives scores from 0 to 100 about the readability of your content. You can know how much your writing is easier for the readers with that score and enrich your book accordingly.
How to Get the Tool
For using this tool, you have to register on its website by paying monthly or yearly subscription according to your needs. You can reduce your payment up to 33 percent by choosing annual plan.
Users' Feedback
The users of the tool are highly satisfied with its score as it works well for their books. It helps them to improve the quality of the content in books by enabling them to present their ideas in a unique way.
If you are looking for appropriate synonyms for the words to improve your vocabulary, Thesaurus is the right tool for you. Apart from synonyms, dictionary, blogs, crosswords, etc., are available which help you improve your writing skill. Thesaurus also provides translating option in many global languages.
How to Get the Tool
This tool can be accessed by signing up free. By registering here, you can create customized lists of words that are useful for your writing. Additionally, you can get access to games and word lists unrestrictedly as well as share your favorite words with everyone.
Users' Feedback
Thesaurus is really useful for beginners in writing as well as experienced authors to find and refer more words. Its ease of use makes it a popular writing tool among the writers.
When you are looking for experts' guidance in writing, you can use Essay Mama. This tool helps you in writing and editing your book and makes it an impeccable one. It also offers some cool features like citation generator, word counter as well as conduct contests so that the users can enhance their writing skills.
How to Get the Tool
You can get this tool by paying as per your requirements. The price of this tool varies from $19.99 to $52.99 depending on the days of need and quality. The price is fixed based on the standard quality, premium quality, and platinum quality services. You can also avail discount from 5 percent to 15 percent for different page counts.
Users' Feedback
This tool is very user-friendly and easily accessible. Nevertheless, it has a pool of writing experts from which users cannot choose the writers of their choice. It will be more productive for the users if Essay Mama displays the writers' profiles.
To keep yourself updated about all the essentials things in writing like vocabulary, grammar, punctuations, etc., Daily Writing Tips must be in your pocket. All the tips are up-to-date through articles under various topics. Besides these, the tool makes your writing perfect as well as motivates you to write in a more lucid way by giving many useful writing tips.
How to Get the Tool
Initially, you can use the tool for 15 days as a free trial. If you are satisfied with it, you can get it by subscribing monthly or yearly. You have to pay $4.99 per month and $49 for a year.
Users' Feedback
The tool is very handy for the writers, especially the beginners. Its tips and articles let them avoid mistakes in their book. Hence, it is one of the favorite tools among many authors.
You will find a lot of learning courses that help enhance your writing at Learning Path.org. Here you can learn to write all kind of books through intellectual online courses that mold your writing so that you can make your book more enticing.
This site provides you information about the best courses and universities as well as articles related to this information.
How to Get the Tool
Learning through these online courses is free and you can choose courses according to your writing needs and knowledge.
Users' Feedback
On learning these courses, any person who is interested in writing can produce a good book. Many people have benefitted from these online courses by widening their writing knowledge.
Most of the writers have cluttered ideas about their book content but find uneasy to compile them in a single place. Coggle do this in an easy and simple way through its mind mapping facility. It helps you to give perfect shapes to your ideas by creating diagrams for your thoughts and ideas that are easy to understand as well as share them with fellow writers and friends.
How to Get the Tool
Coggle can be accessed only through online mode by simply signing in. If you want customized maps, you can get it for $5 per month.
Users' Feedback
Coggle encourages collaboration through easy sharing of mind maps. However, users feel a little bit uncomfy due to hidden interface elements and lack of connection between ideas. Otherwise, it is the best tool to plot your ideas in a single place.

2. Cutting-edge Book Writing Tools Other than Word Processor
Gone are the days when writers used paper and pen to write books. While Microsoft Word is used widely to write (type) books, many word processors serve the writing purpose with more or fewer features of the former writing tool. Using such cutting-edge tools are suggested below will help you throughout the writing process.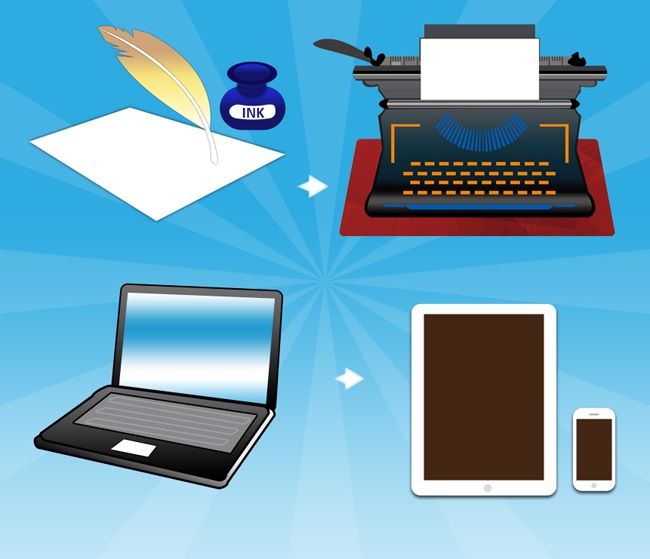 If you feel that, you are getting distracted often while writing, FocusWriter must be your choice. This enables you to write without any diversion through its hide-away interface as well as save your work automatically.
It also provides additional built-in features like variety of themes, basic formatting tools, spell-checking options, document tabs to open and use multiple folders at a time, etc.
How to Get the Tool
The tool is absolutely free and available for Windows, Mac OS, and Linux operating systems. If you want to get tips along with the tool, you have to pay $5 while downloading it.
Users' Feedback
FocusWriter boosts up the creativity of the book authors. The only criticism it has is that the tool supports only text and Rich Text Format (RTF) file types. The tool will be more loved if it can open more file types.

Another tool that helps you to focus on writing is Ommwriter, an incredible word processor apart from MS Word. This app provides you a distraction-free writing environment with eye-pleasing background and audio tracks. This lets you concentrate fully on writing your book and achieve your writing goals as you planned.
How to Get the Tool
You can download Ommwriter by paying a starting price of $5.11 and an offering for $7.33. The tool can be accessed through MAC, PC or iPAD.
Users' Feedback
The tool has enticing visual and audio themes to make you focus on your writing. However, it has only fewer formatting tools at this price range. It also does not let the writers bring in their own themes. Still, it is the favorite tool of the writers because of its simple but powerful writing space.

By using WriteMonkey, you can write and edit your book in full-screen mode thus enabling yourself to concentrate on writing alone. This tool carries a number of features such as auto-saving control, spell checking, multi-monitor support, distinctive print formats, etc., that ease your writing.
How to Get the Tool
WriteMonkey is free to download directly from the tool's website. However, you can support the tool by donating through your PayPal account or credit card.
Users' Feedback
This tool enables the writers to write flawlessly with its simple and clutter-free software. Till now, the users of WriteMonkey are very much satisfied with the tool.
If you are looking for advertisement free and no cost incurring writing tool, LitLift is for you. It provides guidance from the starting to the finishing stage of your writing process.
This tool also allows you to export your writing through its specialized export feature. All your work and private data will be confidential through highly secured servers.
How to Get the Tool
You can avail LitLift by registering through your Facebook, Twitter or Google+ account or by simply registering on its website. You need not pay any amount to use this tool and it is absolutely free.
Users' Feedback
It really helps writers especially novelists with its excellent in-built features like character name generator. However, it will be more useful if it gives an overview of all the writing works together on the same page. This will help writers to imagine the outline of the book.
As a peerless alternative to MS Office, LibreOffice enables you to sharpen your writing. Like MS version, you can access to Word, Excel, and PowerPoint in which you can make use of added features like integration of office components of all types, multi-language support, portable version, etc.
How to Get the Tool
You can download this tool free and start enjoying its ultimate benefits.
Users' Feedback
LibreOffice gives you most of the features of MS Office and many enhanced import and export options. Still, it is liked less because of its clumsy interface and lack of cloud and tablet-based versions.

You will be really excited on using WriteItNow-a top notch writing tool that helps you to improve the readability of your book. It also assists you in achieving your writing target according to your plan by providing word count of your work.
This tool let you keep the content and background information in a single file for your easy reference, which make it a must-need tool for writers.
How to Get the Tool
You have to pay $59.95 to get the registered download version and $69.95 to buy the CD version. Both the versions support Windows and OS X.
Users' Feedback
This tool is very handy to the writers, especially for novelists. If it can be used in mobiles, it would be great.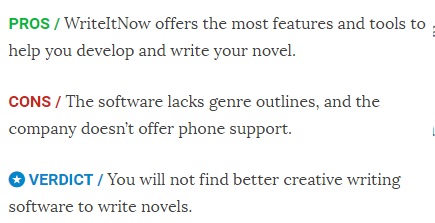 Having more or less features than MS Office, Power Writer enables you to convert your ideas into a worth readable book. It brings the story development tools to the word processor so that you can easily make research and write without wasting a single second.
With its animated writing interface, Power Writer lessens your work burden as well as enhances your creativity in writing.
How to Get the Tool
At a price of $99.95, you can get the tool for Windows version. You can also avail 30 days free trial before you go for purchasing the tool.
Users' Feedback
Power Writer makes your writing easy , simple and more creative. The only drawback of this tool is that it is available only for Windows version and not for Mac OS X.
Designed especially for experts Writers' Cafe serves as a powerful tool-from planning story line, to finishing a manuscript. It is featured with drag and drop cards to organize your ideas in graphical format, auto-formatting and spell-checking options, file export for easy sharing, etc. All these features help you increase the value of your book.
How to Get the Tool
The tool is available for Windows, Mac OS X, and Linux versions. You can buy the full version of the tool either for $40 or £24.
Users' Feedback
The best thing about this tool is that you can get reviews to improve your writing. It is very much suitable for beginners in writing with little difficulty in accessing its features but not much helpful for the experts.

Organizing ideas is one of the critical tasks in writing which can be done without much time and efforts by using Story Craft. This simple story-writing tool is very friendly to the writers in the beginning stage.
It helps you learn how to write a story in a more interesting way and become a perfect writer.
How to Get the Tool
You can download or get the CD of Story Craft Pro version for $49. Additionally, you can buy its luxury edition packed with trouble shooter enhancements and other useful features for $69.
Users' Feedback
It is a very much user-friendly tool as it gives useful tips to make the book more enticing. However, it does not support basic typing functions, which are expected to be included soon.
Scapple is a simple and funny book writing software that lets you create rough notes of your ideas and connect them so that you can draft your book without missing any idea.
On using Scapple, you can write in full-screen mode without any disruption as well as export your writing in any popular format.
How to Get the Tool
At $14.99, you can get Scapple for both Windows and Mac OS versions. If you want to give a try before buying it, you can use the free trial option for 30 days.
Users' Feedback
Scapple lets writers simplify their bigger writing task by dividing the big tasks into smaller ones. It is relatively cheap as it offers many features at low price. Despite these uses, it is criticized for lack of updated versions. In addition, most of its features like iCloud supports OS X only. Anyway, you can go for it as it eases your burden of writing.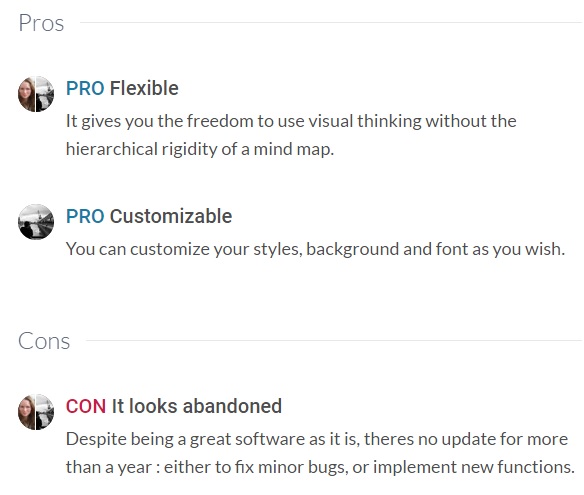 If you are looking for a tool that helps to write as well as publish your book, Sigil is here for you. Using Sigil, you can write, edit, format and publish eBooks effortlessly. This desktop publishing tool supports almost all kinds of formats and makes your book-publishing task easier.
How to Get the Tool
Sigil is available free for Windows, OS X, and Linux versions. It updates the tools regularly and fixes the bugs in previous versions to make the tool more user-friendly for the writers.
Users' Feedback
The tool is much simpler to work with and everything-from writing, inserting images, separating chapters, changing formats to publishing can be done smoothly. Of course, it would be more useful if it includes a built-in dictionary.
It is the ultimate tool to make your book look more professional by designing layout, inserting images and files of any format. Designed as a premier desktop publishing tool, Scribus helps you throughout your eBook publishing tasks.
How to Get the Tool
By downloading Scribus for free directly from its website, you can easily start using it. The tool is available in two modes-stable and development supporting most of the operating systems.
In stable version, there will be no change in the features whereas in the development version, new features are included regularly.
Users' Feedback
Its intuitive interface helps you to produce quality outputs (ebooks). However, it lacks spell-check option, which the users highly need to write their book. Also, it doesn't track the progress of the document.
Despite these major drawbacks, Scribus is a highly reliable tool to write, design and publish eBooks of excellent quality.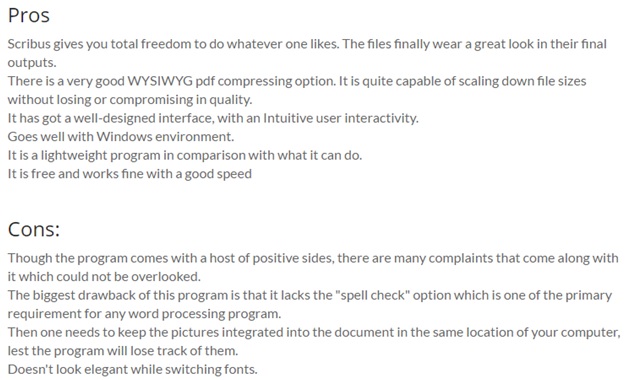 Many writers rely on book writing tools that help them to write spontaneously. The above 23 tools not only make you a good writer but also let you enjoy your writing job.
You can be sure of getting things done in simplest and fastest way on using these carefully selected tools.